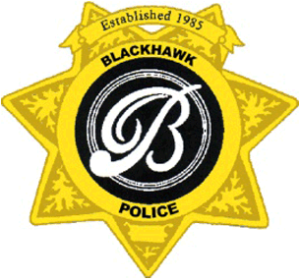 Emergencies Dial 9-1-1                                     
Dispatch 925-646-2441                             
Blackhawk Police Station Location: 1092 Eagle Nest Place (above the Sports Complex)
Meet Your Blackhawk Police Services Staff – Chief Jeff Schultz / Deputy David Sandy / Deputy Donovan Turner
A Message From Your Chief of Police:
I was selected by the Blackhawk Police Advisory Committee to serve as the Chief of Police overseeing law enforcement functions in the community of Blackhawk.  It is the goal of Blackhawk Police Services to create a safe and vibrant community by creating and fostering community partnerships and enhancing on our past successes with community policing.  It is a privilege to serve in a community comprised of people who exude pride not only in themselves but in their community as a whole.  It is our highest priority to preserve the safety and security of the Blackhawk community by implementing concepts of community policing which embrace a customer service-oriented approach to the way we serve our community. I encourage you to take advantage of any opportunity to speak with myself and other members of your Blackhawk law enforcement team as you see us around your neighborhoods.  By getting to know each other, we can work together to resolve any challenges our community may face and reflect strategies created with input from our community. 
Currently, Blackhawk Police Services is staffed with a Lieutenant, three Deputy Sheriffs, and six SAVES (Sheriff's All Volunteer Extended Services) Volunteers. Our staff provides police services to the following residential and commercial communities; Blackhawk Country Club, Oakridge, Saddleback, Hidden Oaks, Silver Oak, Silver Maple, Tennis Villas, and the Blackhawk Plaza. These communities experience a low crime rate due in part to the relationship between the community and the Police District and our efforts to work together to provide the highest standards of quality of life for all in our community. It is our commitment at all levels of the Blackhawk Police Services District to find creative approaches to deal with traditional and non-traditional issues while embodying the core values of the Office of the Sheriff. 
I welcome any suggestions you may have and if there is anything you need, please feel free to contact me by using the phone number or e-mail listed below. I look forward to serving the citizens of Blackhawk and getting to know all of you in the near future.
Respectfully,
Lieutenant Jeff Schultz
Blackhawk Chief of Police
[email protected]
925-736-1018
A Brief History of How Blackhawk Police Began
In 1985, the Contra Costa County Board of Supervisors submitted an ordinance to the voters of Blackhawk, calling for the establishment of a separate County Service Area and a special tax for the purpose of providing extended police security and traffic enforcement services. This ordinance was subsequently passed by two-thirds of the votes cast, creating P-2, Zone A. 
A Citizens' Police Advisory Committee performs oversight of the Blackhawk Police Services District (click here for a current roster of P2 Zone A Committee members). The Committee is comprised of 7 members appointed by the Contra Costa County, Board of Supervisors, upon the recommendation of the District III Supervisor. The Advisory Committee, with the Board's support, selects the type and level of service desired, often including specific number and type of personnel needed, duties and work schedules. Police Advisory Committee meetings are open to the public and are held on the 2nd Thursday of each month at 6:00 PM, at the Blackhawk Police Service District Office.
Frequently Asked Questions:
Q) When does the Police Advisory Committee meet and what is discussed at the meetings?
A)The Police Advisory Committee meets monthly (2nd Tuesday of the month at 6:00 p.m. VIA Zoom).  All meeting agendas, minutes, and police manager's reports can be viewed in the archives and documents section for Blackhawk Police (or by clicking here).
Q) How do I become involved in the Police Advisory Committee?
A)The Blackhawk Police Advisory Committee (P-2 Zone A) is continually looking for members of the community interested in participating.  Any interested members of the community are invited to attend our public meetings, where they can have the opportunity to meet members of the Committee, ask questions, and see how the process works.  Your opinion as a citizen of the Blackhawk community is valued, and we would enjoy hearing from you.  More information on the various Board of Supervisors Appointed Bodies, Committees and Commissions can be found here; http://www.co.contra-costa.ca.us/3418/Appointed-Bodies-Committees-and-Commissions
Q) Why are the Blackhawk Police Officers wearing a black Contra Costa County Office of the Sheriff uniform?
A) Blackhawk Police Officers are employed by the Contra Costa County Office of the Sheriff and are contracted to work in this community.  Generally, our officers are assigned to work in this community for four year periods before they are rotated back to County Patrol.  To learn more about the Contra Costa County Office of the Sheriff click the following link: https://www.cocosheriff.org/
Q) What is the speed limit within the gates of the Blackhawk community?
A) The speed limit on most roads within the Blackhawk residential community is 25 MPH.  A residential roadway without a posted speed limit is always 25 MPH.  There are five roadways within the jurisdiction of the Blackhawk Police Service District that have 30 MPH speed limits.  The posted 30 MPH roadways are; Blackhawk Dr., Blackhawk Meadow Dr., Deer Hollow Dr., Blackhawk Club Dr., and Deer Meadow Dr.  
Q) Why are the above listed five roadways required to have a 30 MPH speed limit?
A) The California Vehicle Code requires that certain roadways, based on length and width, be surveyed to determine an enforceable speed limit. 
Q) Do golf cart drivers have to obey the same rules of the road as other motor vehicles and bicyclists?
A) Yes, all golf carts being driven on the roadway are required to adhere to the California Vehicle Code.  You can read more about golf cart laws and regulations in the archives and documents section for Blackhawk Police (click here for more information).